Learner Driver Guide
Learning to Drive in Six Steps
Learning to drive is an exciting journey, but for some it can also be intimidating. Our free learner driver guide breaks the journey down into six manageable steps and tells you how to prepare for each for each step:
Get your provisional driving licence so you can get on the road under supervision.
Start taking driving lessons!
Learn practical driving manoeuvres.
Prepare for your driving theory test. You can get our free app to do this.
Continue to develop your driving skills, both in your lessons and with private driving practice.
Take your practical driving test — and don't forget to practice for the Show and Tell component!
Once you've completed these six steps you'll be able to enjoy your new-found independence. What's more, if you learn to drive with us we won't just teach you to pass your test, we'll give you the skills and experience you need to make you a safe and confident driver.
Don't forget you can also take advantage of our free learner driver downloads to help you get the most out of your driving lessons.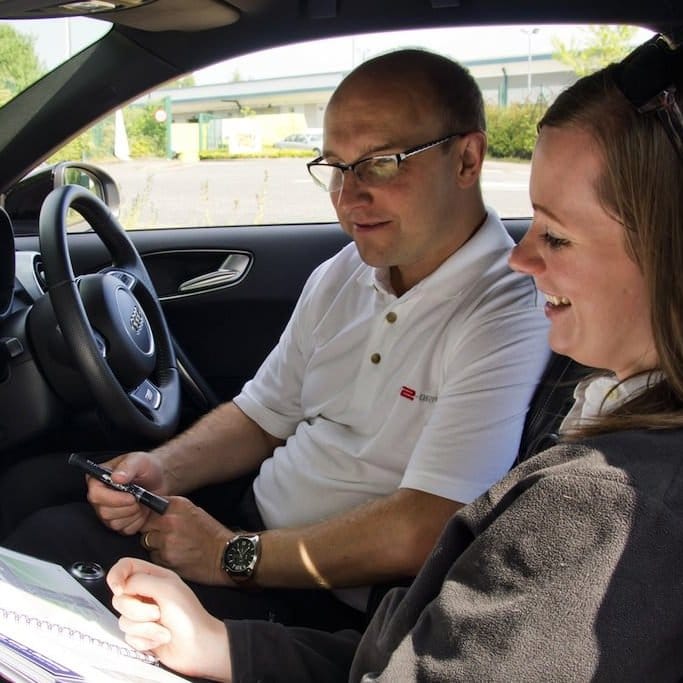 Get Your Provisional Driving Licence
You'll need to get your provisional driving licence before you can get behind the wheel. We won't be able to offer you driving lessons until you have it, so make sure you apply as soon as you can.
Learn Practical Driving Manoeuvres
Our tutorial videos are designed to help you learn the core practical driving techniques that make up the driving test. Master these manoeuvres and you'll be well on your way to becoming a safe driver for life!
Can't Wait To Get Behind the Wheel?
Thinking of booking your first lesson? Simply fill out your details below and we'll call you back —
Prepare for Your Driving Theory Test
Even if your instructor agrees that you're ready, you can't apply for your practical driving test until you've passed your theory test. Be sure to book your theory test in plenty of time, and read our guide so you know what to expect —
Pass Your Practical Driving Test
Once you've passed your theory test and your instructor agrees that you're ready, you'll be able to book a driving test. Then all you'll need to do is make sure you're prepared for the big day! We've put together some resources to help you get ready —
Prepare for Show and Tell
The Show and Tell component of the practical driving test is all about showing the examiner that you understand the basics of how to care for your car. The examiner will be looking to see that you know how to carry out routine maintenance and perform vital safety checks. Find out more about what you need to know —
Free Driving Lesson Downloads
Download our free driving lesson resources to help you get the most out of each of your lessons. We've made our resources free to everybody. You don't even have to be learning with us to get them!
Pupil Testimonials
Sally was my instructor and she was amazing! Must be true as I passed first time…

21-06-2017
So pleased I learned to drive with these guys, passed first time! My instructor Craig was really relaxed and really helped me understand what I needed to do.
5 stars!

21-03-2017
I passed back in November and keep forgetting to review. I was sitting in my car today when I realised how thankful I was for all the help Jamie at How-2-Drive gave me. I was so uncomfortable behind the wheel and terrified of everything that I would be stuck at a roundabout for what felt like the entire two-hour lesson!

Now, here I am, driving around Norwich, actually managing to find and pull out into a gap at a junction. Who'd of thought it? Thank you, Jamie, for being brave enough to sit next to me and for giving me the confidence I needed to drive around all by myself.

17-03-2017
I passed my test today first time. Lee Everett, my instructor, was amazing! He has great skill to teach how to drive, his teaching methods are easy and his personality is amazing. Lee really put me at ease when driving.

18-08-2017
I passed my test first time with How-2-Drive! I really enjoyed my lessons, everything was clearly explained and I received the right amount of help.
Thank you!

03-10-2017
We're Here to Help!
We're always trying to improve our learner driver guide. Is there anything else you'd like to learn about? Contact us today and send us your suggestions!
Start Learning to Drive Today
Looking to get started with driving lessons? Fed up with your current instructor?
Book your first driving lesson today and get the second hour free —