Level 1 -- Basic driving skills
The Level 1 Basic Driving Skills guide covers the fundamental routines that you'll need to master before anything else. You'll be able to accelerate your learning by studying these videos and accompanying PDFs in-between your driving lessons:
Practice makes perfect. To feel confident with all of these techniques you'll need about 10 hours of lessons with an approved driving instructor.
Professional tuition will ensure that you are using the correct techniques once you're actually on the road. After enough practice, your muscle memory will develop so you'll no longer have to consciously think your way through each step of these routines. At this point you'll then be ready to move on to the Level 2 guide, which covers the rules of the road.
Don't forget you can also take advantage of our free learner driver downloads to help you get the most out of your driving lessons.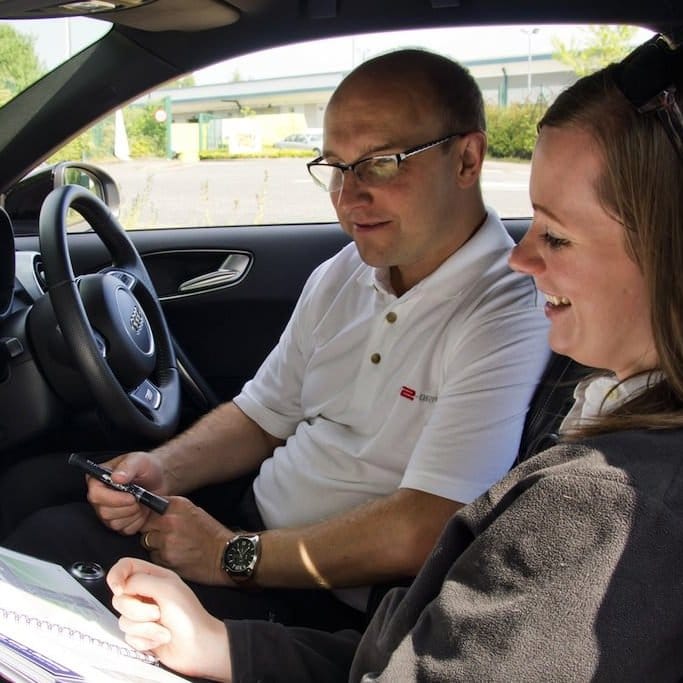 1). Cockpit drill -- DSSSM
The cockpit drill is the first set of skills you'll need to master. DSSSM stands for: Doors, Seat, Steering, Seatbelt, Mirrors.
The cockpit drill covers the things you'll need to check and adjust each time you get into your car, before you start the engine. Be sure to refer to our controls tutorial for details about the other checks you'll need to make concerning the handbrake and gear stick.
2). Use of mirrors
Checking and adjusting your mirrors forms part of the cockpit drill.
Adjusting your mirrors before you start the engine is essential if you share your car with anyone else. It's still important to check your mirrors before every journey regardless. This is because they may have been knocked (especially wing mirrors, if you park on a busy street). They might also need clearing if the weather is bad.
This video also explains the different types of mirrors and when and how to use them whilst driving.
3). Use of signals
Learn when and where to use signals — and which signals are appropriate in certain situations. This video also explains how to time your signals correctly so that other road users are aware of your intentions.
The golden rule is to consider whether other road users will benefit from your signalling. Using signals incorrectly or not using them at all can have disastrous consequences. This is why it's so important to practise your signalling skills until they become second nature.
4). Moving off using the POM routine
POM stands for Prepare, Observe, Move.
This video provides step-by-step instructions for moving off using the POM routine. Howard will demonstrate how to find the biting point of your clutch and outline the six point check, which covers your mirror and blind spot checks.
Before starting your engine and preparing to move off, you must complete the cockpit drill first!
5). Stopping using the MSM routine
MSM stands for Mirrors, Signal, Manoeuvre.
Once you've learnt how to move off safely using the POM routine above, you'll then need to learn how to bring your vehicle to a stop. To safely stop your car, you'll need to use the MSM routine.
This routine combines many of the techniques already covered in the basic skills section of the learner guide. To ensure you're confident with the MSM routine, be sure to also go back over the guides to using mirrors and using signals.
6). Steering using the pull / push method
This video starts with the basics by showing you how to hold the steering wheel correctly. Howard then demonstrates the pull / push steering method, which is widely considered steering best practice.
For contrast, Howard also discusses other steering techniques that many people use, but that have undesirable consequences. If you've caught yourself using the palming method for steering or are guilty of 'dry' steering watch the video to find out why you need to stop!
7). Changing gears (manual and automatic)
Learning to change gears is one of the most crucial fundamental driving skills. Once you have mastery of your gearbox you will be well on the way to becoming a safe and confident driver.
This video covers automatic and manual gearbox layouts and how and when to change up and down gears. It goes into more detail on more advanced techniques such as selective gear changes (block changes), appropriate gearing for hazards, and engine braking. Automatic drivers aren't left out either, as the video also goes through dual clutches and paddle shifting.
Pupil Testimonials
I have just passed my driving test first time and am over the moon – I can't recommend Howard from How-2-Drive enough. He helped me every step of the way and kept me up to date with my progress, I passed after just 24 hours of lessons.

29-10-2015
I passed my test today first time. Lee Everett, my instructor, was amazing! He has great skill to teach how to drive, his teaching methods are easy and his personality is amazing. Lee really put me at ease when driving.

18-08-2017
I passed my test first time with How-2-Drive! I really enjoyed my lessons, everything was clearly explained and I received the right amount of help.
Thank you!

03-10-2017
I just passed my test first time with Fabio at How-2-Drive. He's very relaxed and thorough with his method of teaching; he's a great guy and really makes you relax into a learning atmosphere. Top Instructor! I'm definitely going to recommend How-2-Drive to others, great school!

19-08-2017
I passed back in November and keep forgetting to review. I was sitting in my car today when I realised how thankful I was for all the help Jamie at How-2-Drive gave me. I was so uncomfortable behind the wheel and terrified of everything that I would be stuck at a roundabout for what felt like the entire two-hour lesson!

Now, here I am, driving around Norwich, actually managing to find and pull out into a gap at a junction. Who'd of thought it? Thank you, Jamie, for being brave enough to sit next to me and for giving me the confidence I needed to drive around all by myself.

17-03-2017
We're Here to Help!
We're always trying to improve our learner driver guide. Is there anything else you'd like to learn about?
Contact us today and send us your suggestions!
Start learning to drive today!
Looking to get started with driving lessons? Fed up with your current instructor?
Get your first lesson half-price and take us out for a spin!
Can't wait to hit the road? Call 01603 957 097 to chat with us today!
* According to the DVSA (the people who set the driving test) it takes on average 47 hours of driving lessons and another 20 hours of private practice to pass the driving test.
By using our structured training system we help our customers pass after an average of just 30 hours of driving lessons — that's 17 hours less than the DVSA average!