Intensive Driving Courses in Norwich
Need to Get Your Pass Fast?
Fast track your learning with 5 day intensive driving courses for £1199
One-to-one tuition, one simple price – and each course delivered in one week!
Or call 01603 957 097 to chat with us now!
Our fast pass intensive course puts you in the driving seat!
Do you need to pass your test quickly? If you don't have the time to take regular weekly driving lessons or need to pass by a certain date, intensive tuition could be the perfect solution for you.
We offer one week-long intensive courses and there are two to choose from. One is aimed at beginners with no driving experience and the other is aimed at more advanced learners who have already passed their theory test and want to pass the practical test soon.
If you're a complete beginner, you can take both courses to go from novice to test-ready in two weeks! Or, after completing the beginners' course, you can choose to take regular weekly lessons with us until you are test ready.
Choose a 5 day course that suits you:
Beginners' Intensive
Intensive lessons for the complete beginner. Free Theory Training app included.
£1,199
Test-Ready Intensive
For learners with at least 10 hours behind the wheel. Perfect if you want to pass your practical test quickly.
£1,199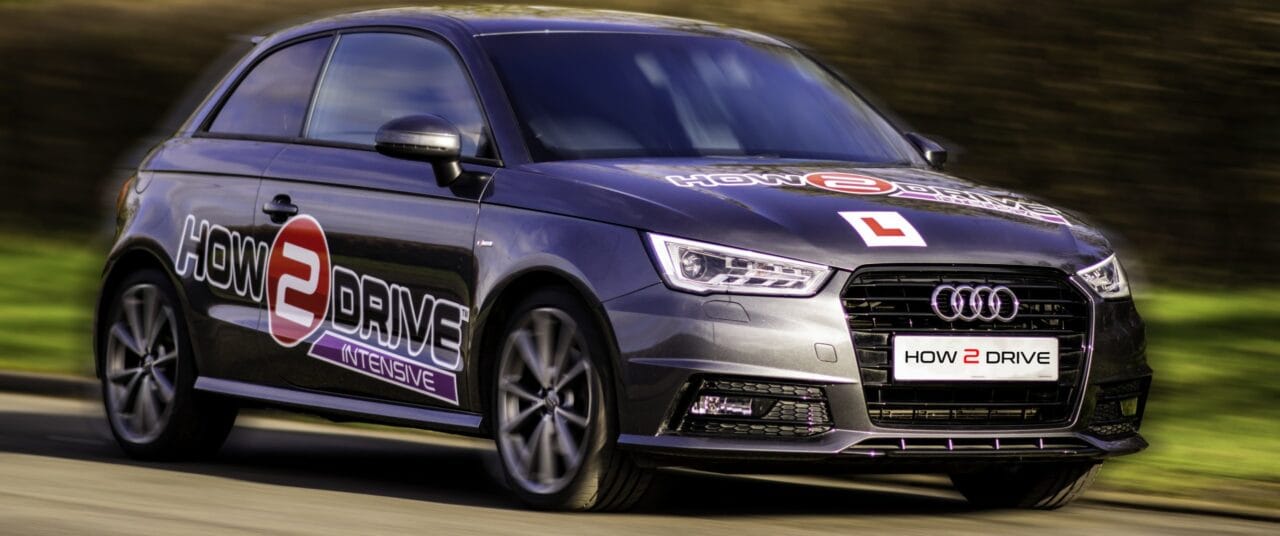 Beginners' Intensive Driver Training
Don't have any previous driving experience? This is the best intensive driving course for beginners! Let us teach you the driving basics in 5 days.
Neither the theory test nor the practical driving exam fees are included in the price, but you will get our free Theory Test Pro app to help you study towards your theory test.
Test-Ready Intensive Driving Tuition
The Test Ready Intensive Driving Tuition is perfect if you have at least 10 hours driving experience and have already passed your theory test.
Whether your experience came from weekly lessons or from completing the Beginners' part of our course, we can now help you prepare to take your test!
Or perhaps your current intensive school has let you down? So long as you meet our course requirements, we can pick up where you left off and get you ready to pass with our week-long test-ready course.
Other driving schools might want to offer you a driving 'crash course'. At How-2-Drive, we really don't feel 'crash' is the right word at all! It implies that you'll be chucked in at the deep end and that you won't feel in control of your learning. Not to mention that we want to teach you how to drive safely — and, most importantly, how to avoid collisions!
So we approach fast-track driving courses from a different angle. Whilst we want to help as many people as possible pass after one week of training, we won't accept your booking if we don't feel you are ready for this part of the course.
Not sure whether an intensive course is right for you? Learn more about our regular weekly lessons in Norfolk & Suffolk.
Important note for beginners
The DVSA recommends learner drivers take at least 40 hours of practical tuition with an ADI before taking their test. If you're a new driver with no driving experience then to stand the best chance of passing your test first time we recommend that you take both of our courses.
Intensive lessons made simple!
Passing your intensive driving test is difficult enough – so we like to keep things simple:
One instructor
You'll have the same dedicated fully-qualified ADI for the whole week. They will be experienced at delivering intensive tuition at a pace that suits you.
You can learn to drive with either a male or female instructor in Norwich. They'll pick you up and drop you off at an agreed location in Norwich city centre.
One week
Both of our intensive driving courses are delivered over five days from Monday to Friday.
You'll have a two hour lesson in the morning then a short break for lunch before taking your afternoon lesson. Lessons usually start at 10 am and finish at 2.30pm, but we can be flexible with these times.
One price
You shouldn't need to be a mathematics undergrad to figure out how much it will cost to pass your driving test in a week! That's why we have just one simple price of £1199.
You'll pay £399 to secure your booking and then pay the balance of £800 to your instructor one week before your course starts.
One instructor per student, one simple price – and each course delivered in one week!
What's included in our intensive courses?
Male and female driving instructors
Would you prefer to learn with a female instructor? Our school of motoring boasts a diverse team of male and female driving instructors, so the choice is yours!
Learn in either a manual or automatic car
Our driving school has ADIs who specialise in both manual and automatic tuition:
Do you want the ultimate flexibility? Learn to drive in a manual car so you're not limited as to which vehicles you can drive in the future.
Or perhaps you'd prefer to pass your test faster and more easily? Take your driving instruction in an automatic instead!
Fast-track driving tests
If you are taking our Test-Ready course, our Fast-Track Test Booking System will find you a test within two to three weeks of you completing your course. To take advantage of this offer, you must have already passed your theory test and have reached a satisfactory standard.
If you've not quite reached the required standard by the end of your course, you can polish up your skills by taking some additional lessons with your instructor.
Note: Fees for additional classes are not included in the course price.
Free theory test training
Still need to pass the theory test? If you are on our Beginners' 5 day course you can revise and test your knowledge for free using our Theory Test Pro app.
The app works on any device and will provide free unlimited training in your own time. There's no need to attend boring group classroom sessions or join online group meetings at times that aren't convenient. If you're struggling to understand something, your instructor will be happy to explain it to you during your practical driving sessions.
Once you've passed a couple of mock theory tests in your app, you can be confident you're ready to book your test!
Note: Theory Test fees are not included in the course price.
Frequently asked questions
What is an intensive driving course?
An intensive driving course is a series of full-day driving lessons delivered over several consecutive days. The idea is for the student to take their driving exam shortly after completing their course. This makes intensive courses perfect if you want to get your driving licence more quickly!

Accelerated driving courses aren't for everybody though. Some of the intensive driving schools near you only offer intensive courses but we provide the full range of driving courses: automatic and manual weekly sessions, refresher, advanced and pass plus! The breadth and depth of our offering means that even if intensive lessons turn out to not be right for you, we've got you covered.
How long is an intensive driving course?
Typically, an intensive course will be spread over 5 days or 7 days – but some courses can last for 10 days or more. The length usually depends upon the learner's level of existing driving experience, how easily they take to driving – and most crucially – the quality of their driving instructor!
Why take a one week driving course?
Our fast pass courses allow pupils to quickly gain momentum in their learning and take their test soon after. With the right trainer and the right course, this method of training can bring you up to test standard more quickly than weekly driving lessons.
Who are your intensive lessons for?
Do you want to accelerate your driving tuition and pass faster? Perhaps you want to pass over the summer whilst you are home from university? Or maybe you'd prefer to pass in term time whilst you are at the UEA?

Our intensive training is designed for learners who want to pass sooner rather than later. However, intensive lessons are not for everybody. If you are nervous about driving – or if you have a specific learning need – you might find a week long course is too much. Call us to discuss your needs in more detail.
How much of my course will be spent driving?
Every minute of your intensive course will be spent on the road. You will be trained on a one-to-one basis with the same instructor all week.
I have specific learning needs, are intensive driving lessons suitable for me?
Intensive driving courses require long periods of sustained concentration. If you have certain learning needs you might find that our standard driving lessons allow you to learn at a more suitable pace. Please ask us for advice before booking one of our courses.
Do I have to pass my theory test before I can start?
It depends which of our courses you are planning to take. You will not need any previous driving experience to take our Beginners' course. We'll even give you a free app to help you revise for your theory!

However, if you take our Test-Ready course then our goal is to give you the very best chance of passing your practical exam after only one week of tuition. For this reason, you need to have your theory test certificate before we can accept your booking.
Why choose How-2-Drive for a 5 day course?
Our goal is to consistently deliver the best intensive course Norwich has ever seen! Our school of motoring has more than 12 years' experience of delivering quality driving lessons and driver instructor training across Norfolk and Suffolk. We are also proud to have in excess of 800 5 star Google Reviews.

We don't do discount codes or gimmicky special offers – we focus on delivering high quality intensive tuition that gives you the best chance of learning how to drive safely.

If you've done some research into the best intensive schools in the UK you've probably read quite a few complaints about how some of these driving schools have let their learners down. Some have taken pupils' money and not provided lessons – others have promised to find test-ready pupils a test, but failed to do so.

At How-2-Drive, we do things differently. Firstly, we've carefully built up a team of A-Grade fully-qualified driving instructors who specialise in delivering intensive lessons. If we can't find you an intensive instructor, we won't take your money!

Secondly, whilst most UK driving test centres currently have a backlog of three months or more, our Fast-Track Test Booking System is designed to get you a test within a couple of weeks! If you take our Test-Ready training, we'll manage your test booking for you so you can take your test shortly after completing your training.
Our intensive driving course prices
We like to keep our prices simple! Both the Beginners' Intensive Driver Training and the Test Preparation Intensive Driving Tuition are priced at just £1199* each.
Secure your booking with a deposit of just £399. Then pay the balance of £800 to your instructor one week before your course starts.
All our tuition is delivered on a one-to-one basis. You'll never have to share your lesson time with anyone else.
What's more, every minute of your tuition will be delivered in-car – no need to attend any group lectures in stuffy meeting rooms! We'll make sure you get the 'hands on' driving experience you need to pass.
Not sure whether you want to commit to paying a large fee before you've even met your instructor? No problem! Why not take advantage of our half-price beginners' driving lesson offer? Find out how to get your first driving lesson in Norwich half price.
Note: Driving test fees and additional classes are not included in our course prices.
Intensive driver training locations
Unlike the national driving schools, we don't cover the whole of the UK. We currently only offer intensive driving lessons in the Norwich area*
Your practical exam will be at the Norwich Driving Test Centre. During your lessons we'll pick you up and drop you off in the city centre to help you become familiar with the roads you'll actually be taking your test on.
* In the near future we are also planning to start offering intensive driving lessons in Lowestoft, Bury St. Edmunds and King's Lynn. Contact us to join our waiting list!
Course requirements
As proud as we are for being able to offer local driving lessons to the vast majority of learner drivers in Norfolk and north Suffolk, intensive driver training is (as the name suggests) intensive!
For this reason, we have a few conditions that you must meet before you can book one of our 5 day courses:
Beginners' Intensive Driver Training
To book a place on our beginners' week-long course, you must:
Be able to commit to taking your driving lessons in Norwich, UK.
Be prepared to commit to a consecutive training period of 5 days. If your schedule won't allow this, take a look at our weekly driving lessons instead.
Test-Ready Intensive Driving Tuition
Our test-ready training is more advanced, so in addition to the above requirements, you must also:
Have passed the Driving Theory Test so you can book your practical driving test as soon as you're instructor lets you know you're ready – things move fast on an intensive course!
Already have a minimum of 10 hours driving experience behind the wheel.
Understand that we can't offer you a guaranteed pass. Intensive driving lessons are difficult – as is the practical exam. Passing your test is in your hands – but we'll do all we can to help you stand the best possible chance!
If you don't meet these requirements yet, don't worry. We can still offer you either the beginners' training in the Norwich area or regular weekly driving lessons anywhere across Norfolk until you are ready.
Finally, we'll only book your test once your instructor is satisfied you have reached the minimum test standard. If you are unable to meet the required standard at the end of your intensive course, you can book additional lessons with your instructor as required at our standard hourly rate.
Ready to book your fast pass driving course?
Complete our online enquiry form to reserve your place on one of our intensive driving courses. We'll call you back within one business day to discuss your needs and confirm your booking.
Eager to get started? Call us now to get your course booked asap!
To secure your place, you'll need to pay the deposit at time of booking. You'll then settle the remaining balance directly with your instructor one week before your fast-track driving course starts.
Finally, please remember that intensive courses are not for everyone. If you have specific learning requirements call us to discuss your options first as fast pass training may not be best suited to your needs.
Our terms and conditions
We believe in clear communication and we believe it's important that you know what we expect from you and what you can expect from us.
To make sure we get off to a flying start please read our intensive driving lesson terms and conditions before you book.
Want to get started immediately? Call 01603 957 097 to chat with us today!