Free Driving Lesson Downloads
We want all our learners to pass their driving tests as soon as possible. But most importantly, we want them to become safe, confident drivers.
That's why we've worked hard to produce these useful resources, which you can download for free. We designed these resources to help you get most out of your driving tuition.
So whether you are taking your driving lessons with How-2-Drive or not, feel free to use these handy learner driver resources.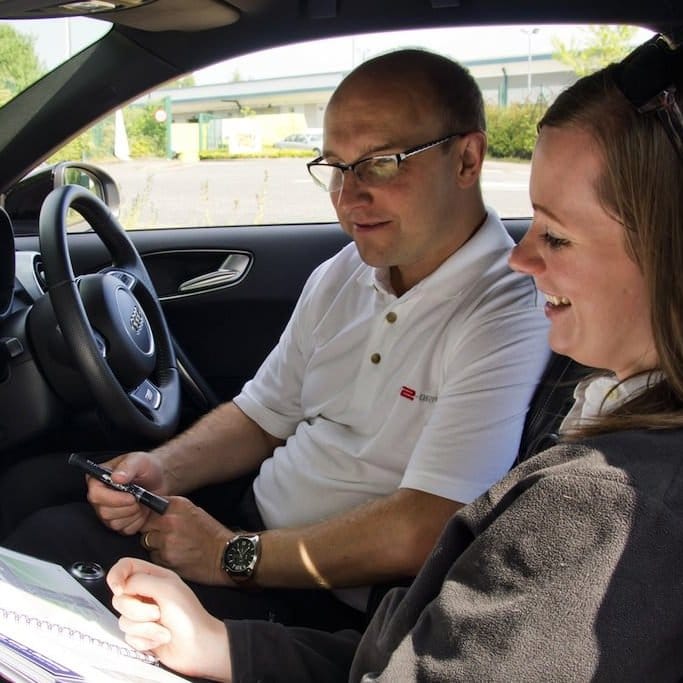 Everybody learns in different ways. We all have different strengths and weaknesses. Answer these 10 questions to find out what type of learner you are.You can then share the results with your driving instructor so that they can teach you more effectively.
It's important to take some time to reflect after each lesson. You can then share your reflections with your instructor at your next lesson. Remember to focus on what you did well and what you'd like to improve on next.
Learner Driver Progress Record
Stay motivated by keeping track of your development as a learner driver. Your progress record will keep you on track as you pass through our structured Driver Training System. It will help you focus on the areas you need to improve on and check off the things you've mastered.
Can't Wait To Get Behind the Wheel?
Thinking of booking your first lesson? Simply fill out your details below and we'll call you back —
Private Driving Practice Guide
Keep a record of all the time you spend practising in-between lessons by following our private driving practice guide. Always check with your driving instructor first to make sure you are ready to begin private driving practice.
Show Me, Tell Me
You'll have to answer only one 'show' and one 'tell' question as part of your driving test. To help you out, we've produced a guide for all vehicle safety questions and answers.
Practice Your Theory Test
Practice your theory test for free with the Theory Test Pro app — brought to you in association with How-2-Drive. Already feeling confident? This app can also tell you if it thinks you're ready to take the test.
Terms & Conditions for Learning with How-2-Drive
We believe that effective teaching begins with setting out clear expectations for both pupil and instructor. Before you decide to take lessons with us, you may wish to read our Terms and Conditions and Cancellation Policy.
Pupil Testimonials
Absolutely fantastic instructor! Sally made me feel so comfortable from the moment I first started my lessons, patience of a saint! Only thing I am gutted about is not seeing her weekly anymore! Cannot fault her or recommend enough! Thank you for helping me!

15-05-2017
I have just passed my driving test first time and am over the moon – I can't recommend Howard from How-2-Drive enough. He helped me every step of the way and kept me up to date with my progress, I passed after just 24 hours of lessons.

29-10-2015
I would 100% recommend How-2-Drive for any learner drivers in Norwich. Thanks to my driving instructor Jon I went from a nervous beginner driver to passing my test first time in just 5 months! I couldn't have asked for a better learning experience.

16-03-2017
I just passed my test first time with Fabio at How-2-Drive. He's very relaxed and thorough with his method of teaching; he's a great guy and really makes you relax into a learning atmosphere. Top Instructor! I'm definitely going to recommend How-2-Drive to others, great school!

19-08-2017
I just personally wanted to give you a message to praise one of your driving instructors. Mike Brett has been a great driving instructor who helped me pass last week. Even when I felt nervous or felt like I couldn't pass my test, Mike kept praising and motivating me and I am glad he did as I wouldn't have passed my test… I am very happy I chose How-2-Drive. Megan.

29-05-2017
We're Here to Help!
We're always trying to improve our learner driver guide. Is there anything else you'd like to learn about? Contact us today and send us your suggestions!
Start Learning to Drive Today
Looking to get started with driving lessons? Fed up with your current instructor?
Book your first driving lesson today and get your second hour free —