Free Driving Lesson Downloads
We want all our learners to pass their driving tests as soon as possible. But most importantly, we want to help them become safe, confident drivers.
That's why we've worked hard to produce these useful pupil resources. We designed them to help you get most out of your driving tuition.
Use these links to jump ahead to the learning materials you're after:
Remember — whether you are taking your driving lessons with How-2-Drive or not, you can download these handy learner driver resources completely free of charge.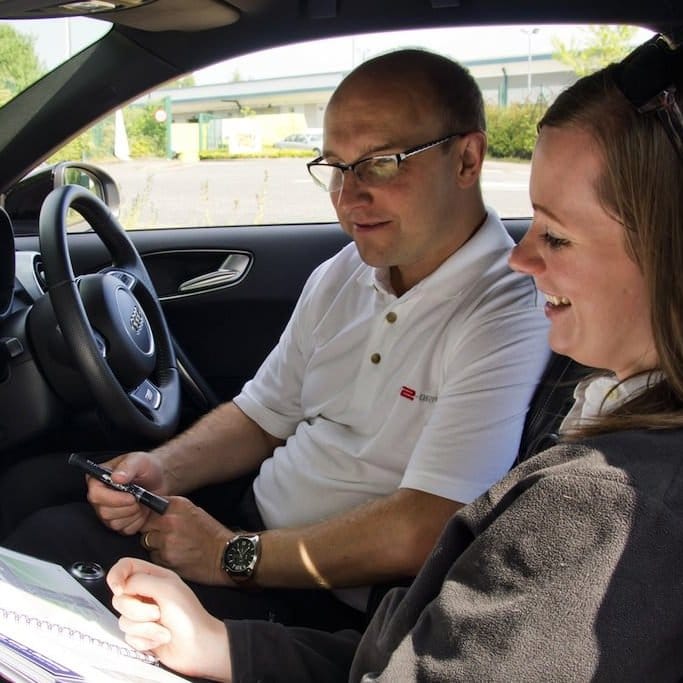 Learning Style Questionnaire
Everybody learns in different ways. We all have different strengths and weaknesses. Answer these 10 questions to find out what type of learner you are. Then, share the results with your driving instructor so that they can adapt their lessons to teach you more effectively.
Driving Lesson Reflective Log
It's important to take some time to reflect after each lesson. You can then share your reflections with your instructor in your next lesson. Remember to focus on what you did well and what you'd like to improve on next.
Learner Driver Progress Record
Stay motivated by keeping track of your development as a learner driver. Your progress record will keep you on track as you pass through our Structured Driver Training System. It will help you focus on the areas you need to improve on and check off the things you've mastered.
Private Driving Practice Guide
Keep a record of the time you spend practising in-between lessons by following our private driving practice guide. Check with your driving instructor first to make sure you are ready to begin private driving practice.
Show Me, Tell Me
You'll have to answer one 'show' and one 'tell' question as part of your driving test. To help you out, we've produced a guide for all vehicle safety questions and answers in the practical driving test.
Practice Your Theory Test
Practice your theory test for free with the Theory Test Pro app — brought to you in association with How-2-Drive. Already feeling confident? This app can also tell you if it thinks you're ready to take your theory test.
Terms & Conditions for Learning with How-2-Drive
We believe that effective teaching begins with setting out clear expectations for both pupil and instructor. Before you decide to take lessons with us, you may wish to read our Terms and Conditions and Cancellation Policy.
Pupil Testimonials
Thank you, John Sewell, for helping me to pass my test. Could have not done it without your expertise.

24-11-2017
Robert really enjoyed his lesson with Nick and very pleased to get lots of actual driving time. Thank you for your help in getting it booked at such short notice, he had been talking about learning to drive for ages and was delighted to have his first lesson on his 17th Birthday.

Robert has arranged his next lesson with Nick and plans to book and pay for a block of 10 to take advantage of the offer available.

Thanks again,
Fiona

12-06-2017
I've just passed my driving test with How-2-Drive on my first attempt – soooo pleased! Howard, my instructor was amazing and explained things in a way I could easily understand.

Nothing was too much trouble and I really enjoyed my lessons -– thank you so much. I will now recommend all my friends.

18-04-2015
My driving instructor Lianne is excellent! She made me feel relaxed and explained everything clearly. I'd highly recommend her to anyone looking for lessons in Norwich – all together how-2-drive has been fantastic!

03-11-2015
Wow! It's official – I can drive! Howard is the best instructor, because of him I just passed first time, and it only took me 20 hours!

29-10-2015
We're Here to Help!
We're always trying to improve our learner driver guide. Is there anything else you'd like to learn about?
Contact us today and send us your suggestions!
Start learning to drive today!
Looking to get started with driving lessons? Fed up with your current instructor?
Get your first lesson half-price and take us out for a spin!
Can't wait to hit the road? Call 01603 957 097 to chat with us today!
* According to the DVSA (the people who set the driving test) it takes on average 47 hours of driving lessons and another 20 hours of private practice to pass the driving test.
By using our structured training system we help our customers pass after an average of just 30 hours of driving lessons — that's 17 hours less than the DVSA average!