It's the same dilemma every Christmas, deciding what to buy your loved ones when they have everything they need and not wanting to buy something just for the sake of it.
While a driving gift might not be at the top of everyone's exciting wish list (it's nothing on marking out the toy section of the Argos catalogue, we admit), it can actually make for a great alternative that is practical and also saves someone much-needed money over the coming year.
With that in mind, we've put together our top five ideas that could make a big difference to someone in your life's 2020.
We haven't included buying someone an actual car; that is of course the ultimate in gifting, but we've assumed most people don't have quite that budget to spend!
Driving lesson vouchers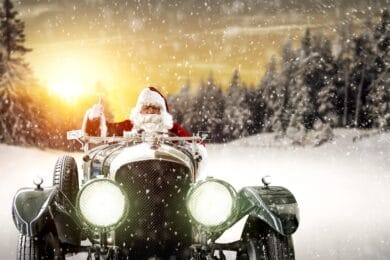 Learning to drive is one of life's great milestones and a step on the road to independence. Being able to gift someone their very first lesson is a fantastic gesture, and will leave them excited for the year ahead after the buzz of Christmas Day has died down.
As well as vouchers for their first two-hour lesson, we offer vouchers for any value from £25, which means you could help out someone who is already learning with us, with any number of lessons you like.
Learning to drive is a big investment of time and money, so helping to lower the cost for a loved one and get them ever closer to a successful test day will definitely put you on the nice list for next year.
Pass Plus and advanced driver training courses
Once they've passed their test, they may be happy to just crack on with getting a car and getting used to life on the open road.
However, there are lots of reasons why someone might be looking to do a Pass Plus or advanced driver training course. The Pass Plus course, devised by the DVSA, covers aspects of driving that may not have come up in lessons before the test, for example motorway driving and all-weather driving.
For anyone who may be a little nervous about dealing with different conditions when they are new to driving on their own, it can be great for giving them a confidence boost.
Advanced driver training is perfect for people who want to take their learning a little further, for example to get the most out of a high-performance car, or learn some eco-driving techniques to save money on fuel costs. Our lessons also help to reduce the likelihood of being involved in an accident.
In a nutshell we can offer additional lessons for any particular needs or requirements, also including refresher lessons – check out our post on why someone might consider taking further lessons with an instructor, even if they passed their test years ago.
Say congratulations with a new driver starter pack
Like putting together a hamper of treats, you could make a fun Christmas gift to congratulate a new driver who has recently passed their test.
Depending on your budget, you can go all out and include gadgets like satnavs or dashcams, or you could put together a more affordable package like a keyring for their new car key, novelty air freshener, and sunglasses for driving in the winter sun and ready for next summer's road trips.
You could even throw in a lottery ticket to give them a chance of affording their dream car or, more realistically, a tenner for their next pit stop!
Car supplies kit
Great for anyone who already has a car, but particularly for anyone who has just passed their test – keeping an emergency supplies kit in the car is a good idea in case they ever break down and are stranded for a while, or get caught up in the aftermath of an accident or effects of bad weather. If you haven't already got one, you should consider one for your car, too!
There are lots of practical items that it's good to keep in the car, for example a warning triangle, bottled water, car toolkit, torch, high-vis vest and a first aid kit.
However, you can also add more fun, but still practical, items to make it a bit more special, like a pack of their favourite biscuits or sweets with a long use-by date (just in case they do manage to resist the temptation to eat them straight away), cartons of their favourite drink, or a snazzy blanket in case they have to stay in the car overnight. Or how about some travel games or pack of cards to help pass the time if they're stuck.
Breakdown cover, insurance or the next service
Driving is no small expense once you've factored in the cost of buying, insuring, MOT'ing and taxing a car, not to mention the cost of fuel, services, and repairs that will inevitably rear their head, usually at the worst possible time.
If you'd rather your Christmas presents had a real benefit to loved ones past January 1st, then paying for something that would otherwise be a financial burden can be a fantastic gesture.
Whether it's breakdown cover on a newly bought car or offering to pick up the bill for a year's insurance, tax, or the next service, there are lots of ways you can make someone's purse or wallet smile.
Next steps
Want to find out more about the gifts we can help you sort out? Check out the following links: